Sundström – A sustainable company with focus on people and environment
Sundström Safety has contributed to protecting and improving people's health for almost 100 years. By actively working to develop and enhance sustainability, we also improve environmental and climate impact, working conditions and a cleaner business model with respect for human rights. The core of our sustainability work are our values: Openness, Clarity and Respect.
Our sustainability wheel
In 2020, we conducted a pre study regarding sustainability. Central to our investigations are our values and Code of Conduct, which emphasise the importance of respecting and following the UN's 10 principles on human rights, labour law, the environment and anti-corruption.
As part of the pre study, an analysis of the current situation was also made, this was based on the UN Global Compact´s ten principles. Through the analysis five focus areas were identified. These areas now form the basis for our future strategic sustainability work and set goals.
Our five focus areas are: Staff & health, Sustainable purchasing, Sustainable products, reducing Environmental impact and social responsibility. These are presented as a sustainability wheel with our values at its center.
Our five focus areas are linked to the UN's global goals.
Values
At the core of our business are these three values: Openness, Clarity and Respect. They permeate the workplace and communication throughout the organization and are closely linked to our sustainability work.
Sundström Safety AB has been helping to protect and improve people's health for almost 100 years. Our active approach to sustainability issues has enabled us to reduce our impact on the environment and the climate, provide good working conditions, establish a clean business model and ensure that we respect human rights.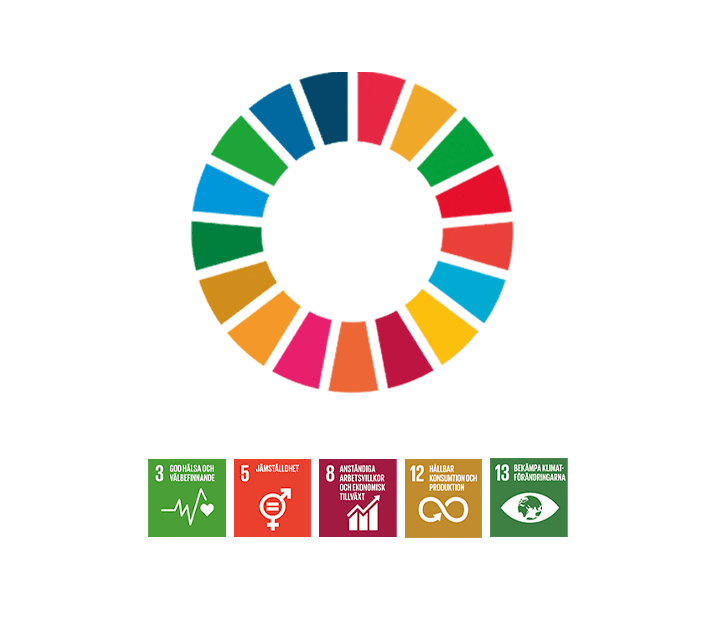 UN's global goals
Our values are the foundation of our sustainability work and guide us in our decisions and how we work. They create security and make us focus on issues that are important to us.
In 2015, the UN adopted a new agenda to steer towards sustainable development before the year 2030; this led to the creation of 17 Global goals. The business community has a crucial role in the work of achieving the goals. Sundström identified five goals that are more significant and important for our business and strategic direction.
Everyone can contribute to attaining these goals, but Sundström Safety's emphasis is on the following.